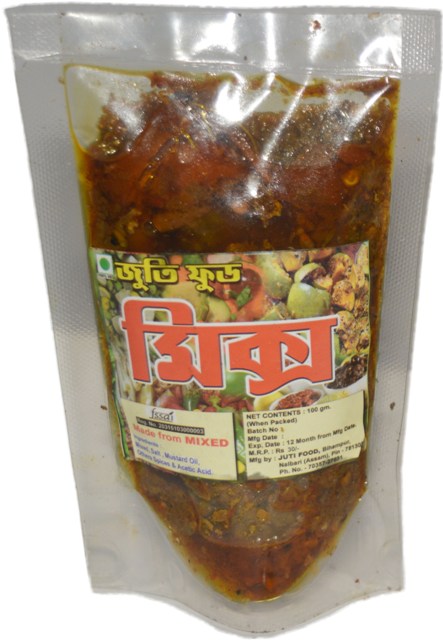 Mix Veg Pickle 100 gm pack of three
90 Rs.
Mixed Vegetable Pickle is important item in practically every Indian meal. Traditional pickle recipes using unique spice mixes and made with a wide variety of vegetables.This is healthy, nutritious, delectable and is free from pesticides,harmful chemicals and Color.
30 in stock
Description
Additional information
Reviews (0)
Description
This Mix Veg Pickle is very delicious and free from harmful color and chemicals.
Related Products
Bogori (Zizyphus jujuba) Pickle 100 gm pack of three

This is an all time favourite Assamese pickle. It is made of Jujuba berries or bogori in Assamese, are red inside & out, with a crispy texture, edible skin, and a sweet-tart, apple-like flavor. This pickle(Bogori asaar) is a sweet,spicy concoction that is so Testful; you'll be smacking your lips. And we mean this literally because the molasses sugar used to sweeten the pickle, leaves the Jujube coated in the dark, sticky sweetener which gets all over your lips in a messy – but a good messy – way. The Jujube is pickled in mustard oil, spices and chilli flakes giving the whole pickle a unique sweet-sour flavour with a hint of chilli.

160

Rs.